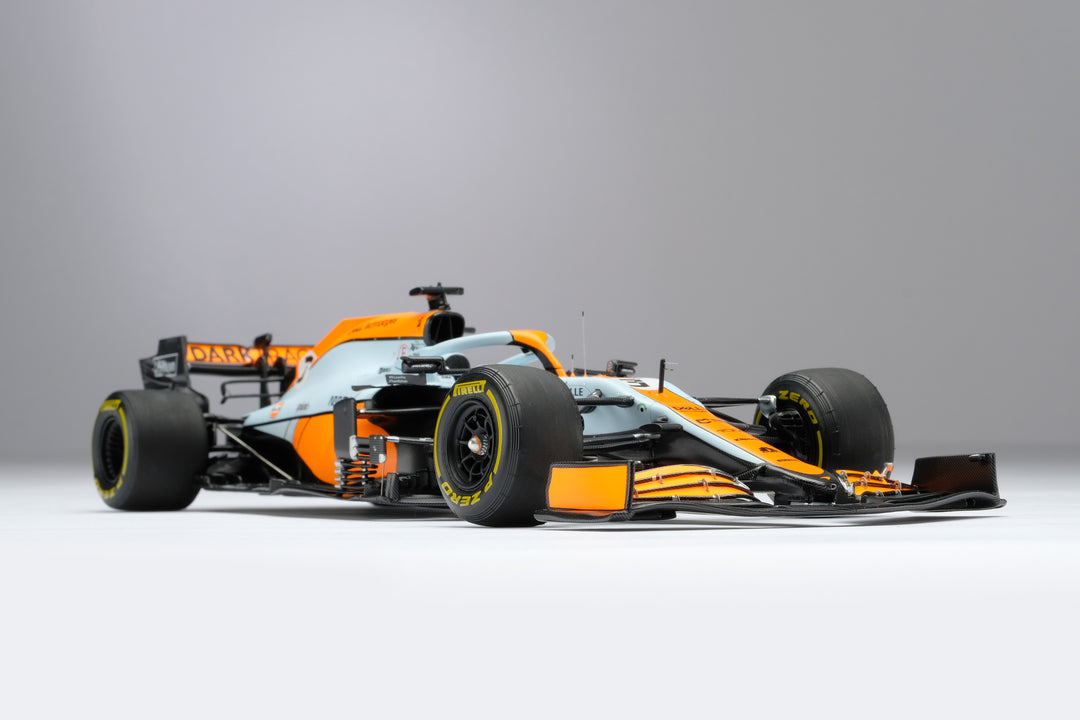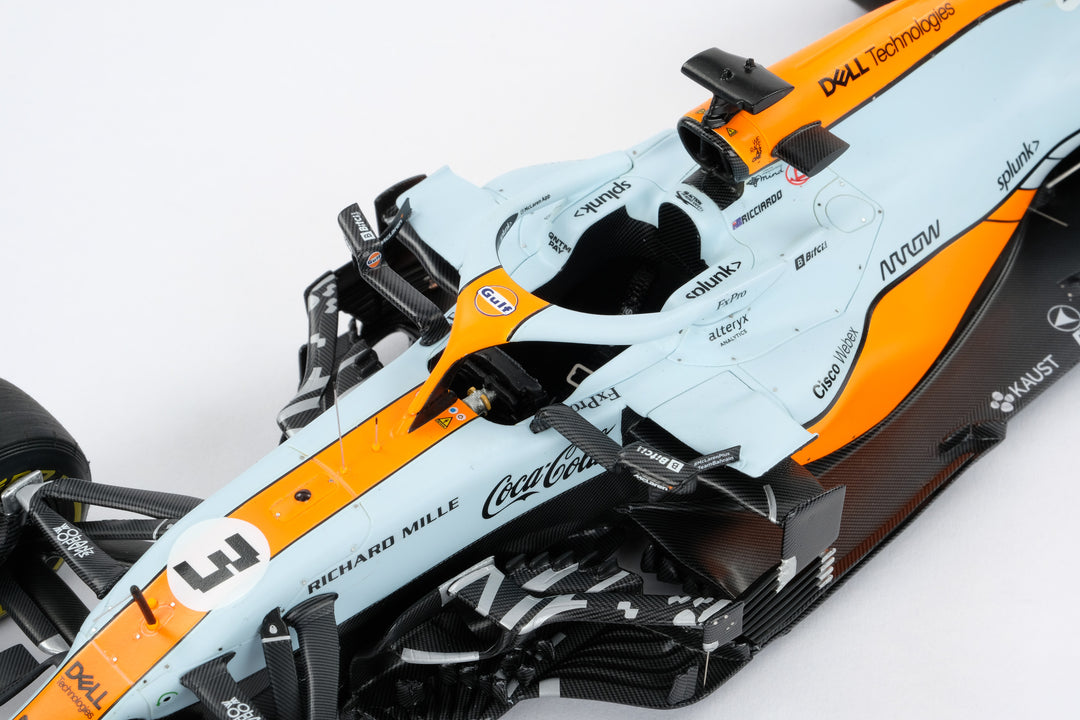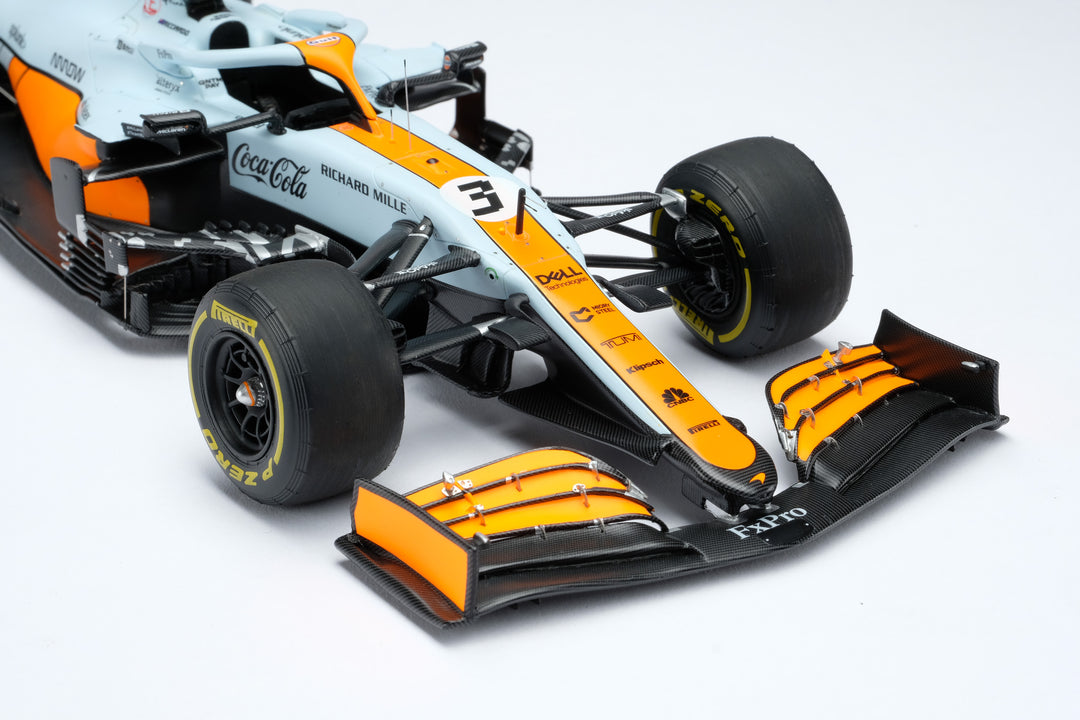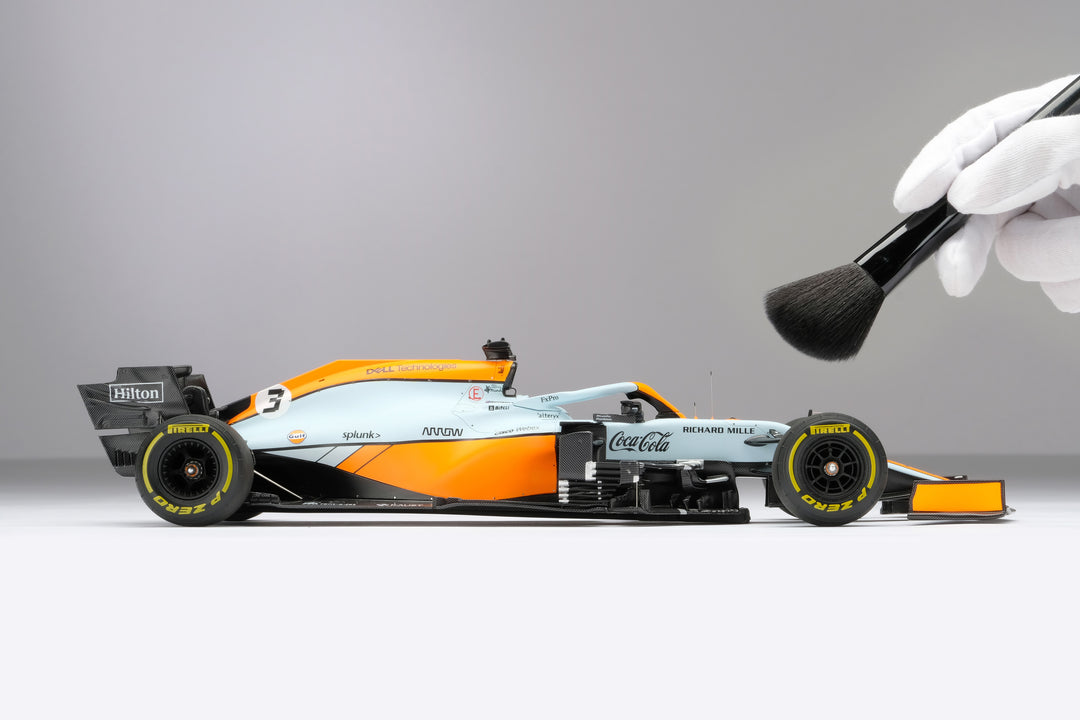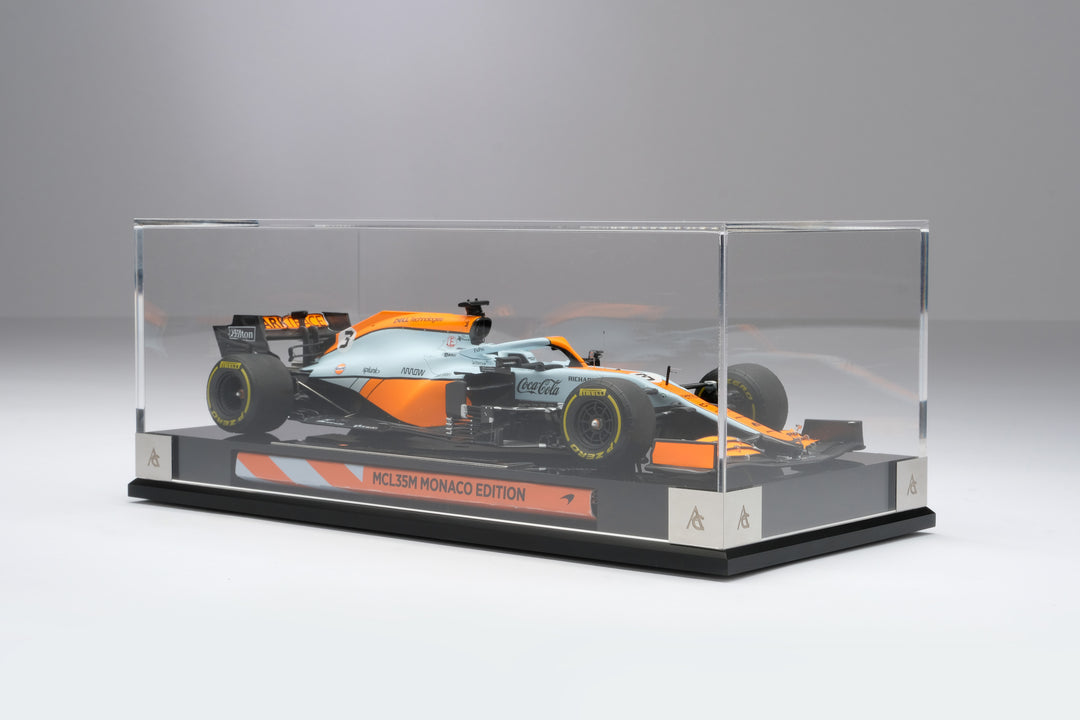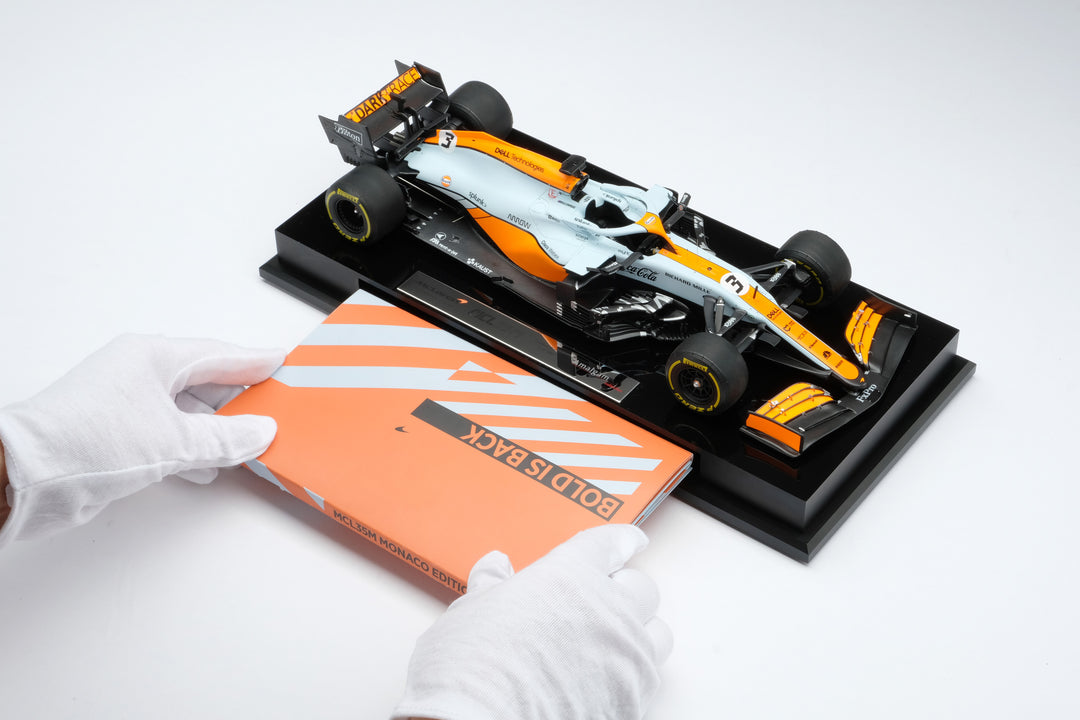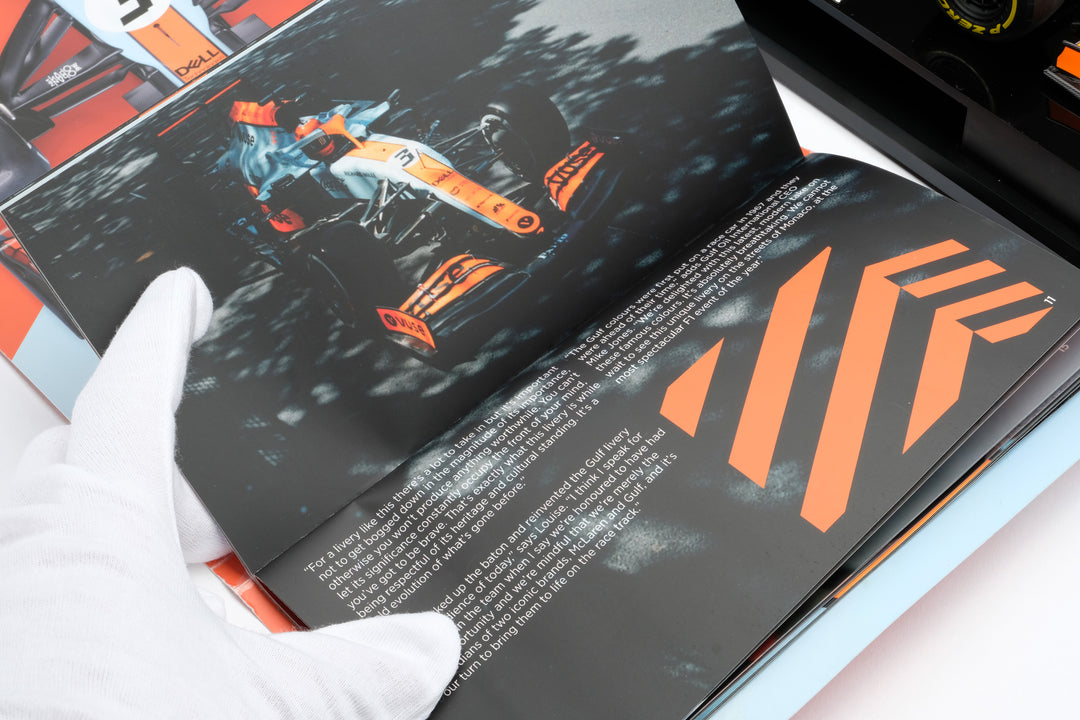 1:18 McLaren F1 Team #3 McLaren MCL35M - 2021 Monaco Grand Prix (Pre-Order)
Product Code: M6185-3
Regular price
$1,544.54 AUD ex GST
$1,698.99 AUD inc GST
/
---
Please Note: This Model is now available to pre-order. The current ETA for delivery is mid 2022.
Product Code: M6185-3

Product Description: 1:18 Scale McLaren MCL35M - 2021 Monaco Formula One Grand Prix - #3 Driver: Daniel Ricciardo

Limited Edition Number: 500

Product Specifications:
- As raced by Lando Norris and Daniel Ricciardo at the Formula 1 Grand Prix de Monaco on the 23rd of May 2021
- Each model hand-built and assembled by a small team of craftsmen
- 1:18 scale model, over 31 cms/12 inches long
- Made using the finest quality materials
- Over 800 hours to develop the model
- Thousands of precisely engineered parts: castings, photo-etchings and CNC machined metal components
- Built using original CAD designs and paint codes supplied by McLaren Racing

About This Product:

An evolution of the MCL35, a car that helped the team to third in the Constructors' Championship in 2020 – its best performance in eight years, the McLaren MCL35M was McLaren Racing's challenger for the 2021 FIA Formula 1 World Championship. Piloting the MCL35M was one of the most competitive driver line-ups in the sport, with 21-year-old British driver Lando Norris, in his third season in Formula 1 with the team, joined by Australian seven-time race winner Daniel Ricciardo.

The MCL35 was effectively redesigned, despite most of the regulations being frozen in response to the Covid-19 pandemic. Given that McLaren had already signed a contract to use Mercedes-AMG engines in 2021 before the decision to reuse 2020 chassis was made, it received special dispensation – subject to FIA inspection – to modify its chassis to accommodate the new engine and energy store, which required a complete redesign of the car's architecture. The 1600cc V6 Mercedes-AMG M12 E Performance power unit was integrated into the design of the MCL35M by McLaren with the support of Mercedes High Performance Powertrains. It represented one of several key changes to the car as part of its evolution into the MCL35M, replacing the previous Renault E-Tech 20. Despite switching engines, McLaren did not switch gearboxes and so the team's engineers needed to create their own, along with updated fuel, hydraulic, electrical and cooling systems.

The wheelbase of the car was lengthened, as the gearbox bell housing had to be extended to accommodate the Mercedes engine. The aerodynamic potential of the MCL35M could not be maximised due to the FIA's 2021 token system, leading McLaren to implement most aerodynamic upgrades for the switch in the 2020 season ahead of the homologation cut-off date, such as the car's nosecone. The team focused its efforts on reducing the impact of the 2021 regulations on downforce, which necessitated removal of front downforce to rebalance the car. Many of the changes in bodywork shape were dictated by the engine installation but others are just continued development, based on the team's learnings from the 2020 season and down to the changes in the regulations.

After a decent showing in pre-season testing, setting several fastest laps without any major reliability issues, the team started the season well, scoring points regularly. Norris finished in fourth position at the opening race in Bahrain, quickly following it up with a third-place podium at the Emilia Romagna Grand Prix, where he narrowly lost out to the Mercedes of Lewis Hamilton in the closing stages. Fifth and eighth placed finishes followed in Portugal and Spain before Norris earned a second podium finishing, claiming third in the Monaco Grand Prix after a holding off the advancing Red Bull of Sergio Pérez on the narrow street circuit. Ricciardo struggled to match his British teammate's early performances but was initially scoring consistent points for the team. In Portugal, the Australian driver recovered from a poor qualifying, where he started sixteenth on the grid, to finish nineth.

By round six in Azerbaijan, it was clear that McLaren's closest rival in the battle for third in the Constructors' Championship would be Ferrari. The Italians briefly passed their British rival after Baku, despite Norris and Ricciardo finishing in fifth and ninth places, though the team from Woking regained the lead after a stronger showing in France as Ferrari struggled with tyre degradation. This game of leapfrog would continue for the rest of the season. Ricciardo failed to score any points in the Styrian Grand Prix, suffering from power unit issues, whilst Norris recorded his third consecutive fifth place finish. At the following Austrian Grand Prix, Norris earned his career-best qualifying result, starting the race in second after setting a time only 0.048 seconds from polesitter Max Verstappen. He finished the race third, recovering from a penalty to overtake Hamilton on lap 52. A strong showing of fourth and fifth at the British Grand Prix added more points to the tally. The team suffered huge misfortune at the following Hungarian Grand Prix: both drivers were caught up in the carnage on the opening lap as the Mercedes of Valtteri Bottas ploughed into Lando Norris, leading to his retirement, and Aston Martin's Lance Stroll collided with Charles Leclerc's Ferrari who was himself forced into Ricciardo, spinning the Australian and damaging his car. It was to be McLaren's only non-points scoring weekend of the year.

The duo looked quick at the Belgian Grand Prix after the summer break, with Ricciardo qualifying fourth. Norris set the fastest times in Q1 and Q2 before losing control at Eau Rogue and crashing heavily. Substantial rain prevented the race from starting and the results were drawn from the end of the first lap, giving Ricciardo fourth position and Norris fourteenth. A tough race followed in the Netherlands, where the team scored just a single point, but the drivers bounced back in style at Monza. After sprint qualifying and polesitter Bottas taking an engine penalty, Ricciardo started second and Norris fourth, in the perfect position to take advantage when title rivals Verstappen and Hamilton collided on lap 25. Ricciardo claimed the fastest lap on the race on the final lap and led Norris home to claim McLaren's first one-two finish since the 2010 Canadian Grand Prix and first win since the 2012 Brazilian Grand Prix. Norris followed this fantastic result with took a pole position, the first in his career, at the next race in Russia. He led much of the race but devastatingly lost the lead with just two laps left as he aquaplaned off the track, just moments after disagreeing with his team's calls to switch him to intermediate tyres. Ricciardo, however, had switched tyres earlier and claimed fourth position.

From there, McLaren's season started to fade. After Russia, McLaren held an eighteen lead over Ferrari, but the Italians regained the advantage after Mexico, creating a points buffer McLaren finally could not overcome. Norris continued to score points, but never finished higher than seventh in the final seven races of the season. Ricciardo finished fifth twice but failed to score any further points. McLaren scored 73 more points than they did in 2020 but were ultimately defeated by a resurgent Ferrari, bouncing back from their previous disappointing campaign.

Overall, the McLaren MCL35 earned one victory, four further podiums, one pole position and two fastest laps, scoring 275 points and finishing fourth in the Constructors' Championship. Norris and Ricciardo finished sixth and eighth in the Drivers' Championship respectively.

This fine 1:18 scale model of McLaren MCL35M is as raced at the Formula 1 Grand Prix De Monaco 2021 in its one-off Gulf Oil International-inspired livery by Lando Norris and Daniel Ricciardo on the 23rd of May. In a rather uneventful race, scored his third career podium, coming home in third position. After qualifying fifth, Norris took advantage of Charles Leclerc's mistake and subsequent pre-race withdrawal and Mercedes' mechanical misfortunes during Valtteri Bottas' pit-stop which forced the Finn's retirement. With ten laps to go, Norris reported that the car felt undriveable on the Hard tyres, while the Red Bull of Sergio Pérez was beginning to chase him down. The gap dropped to just 1.5s as Norris ordered radio silence, settling his pace and ultimately holding off the Mexican for his second podium of the season. Ricciardo finished thirteenth, at a track notorious for its overtaking difficulty.

The MCL35M exhibited an evocative retro livery, which celebrated the deep-rooted and successful racing partnership between McLaren Racing and Gulf Oil International and marked the return of Formula 1 to one of the most iconic racetracks following the Covid-19 lockdowns. McLaren and Gulf revived their long-standing collaboration in July 2020 when the team announced the brand's return as an official partner. The iconic blue colourway livery with the orange stripe is a tribute to Gulf's timeless design while reflecting a racing connection that began in the days of team founder Bruce McLaren. Norris and Ricciardo sported matching race suits, while the race team followed suit. The drivers also wore matching race helmets with bespoke retro designs, which were raffled for the team's mental health charity partner, Mind, after the event.

This model has been handcrafted and finished in Amalgam's workshops with the co-operation and assistance of McLaren Racing regarding original CAD data, finishes and paint codes. Furthermore, it has undergone detailed scrutiny by both engineering and design teams to ensure complete accuracy of representation.
For Future Release Model Cars:
We have A LOT of future release model cars listed on this website and it's not uncommon for these items to take anywhere between 6-18 months to arrive.

If you're interested in ordering/buying these models then you have two options available to you:
Pre-Order Model Cars At Your Local Stockist:
If a model car is marked as a future release on our website then please enquire about placing a pre-order with your local model car / hobby stockist as soon as possible.
Please note, all stockists are seperate businesses to Authentic Collectables, we are suppliers to them. Each stockist has different ways of how they accept pre-orders for future release models.
To find your local Authentic Collectables stockist, please click here.
Register Your Interest For Model Cars Here On Our Website:
You can also register your interest for future model car releases online with us to be notified when they are released.
To do this you need to navigate to the product page of the specific model you're interested in.
Once you're on the model product page, please click on the black 'Register Your Interest' tab which should appear on the right hand side of your screen on each future release product page on our website, enter your email in the relevant section and submit the form.
When the model arrives in stock you will receive an advanced email notification from us letting you know that it is in stock with a link to complete and pay for your order while stock lasts.
Please ensure your email address is right before submitting the register your interest form. Unfortunately a confirmation email isn't sent when you register your interest for models on our website, the only time the system will email you about that specific model will be when it arrives in stock.
We offer this option due to the amount of time models generally take to produce (usually 6-18 months) so you're not out of pocket until the model actually arrives.
-
For Future Release Prints, Books + Other Products:
Depending on the type of product or brand, we also offer a paid pre-order option on our website.
If a product is available for paid pre-order on our website then you will be able to add it to your cart and purchase it like any normal in stock item.
Details about the pre-order will be listed at the top of the product description if it's available and when we expect it to arrive in our warehouse.
A paid pre-order option will only ever be available on our website for products that aren't models - we usually use this feature for prints, books and other non-model products.

We offer the paid pre-order option online with us for these products because we can predict production and shipping times more accurately and are usually much faster than the model cars to produce.

Of course, if you wish to order these items from your local stockist, please make an enquiry with them.
-
For All In Stock Products:
If a product is in stock then it should now be available at your local Authentic Collectables stockist or you can shop online directly with us and it will usually be shipped on the next business day unless otherwise stated or it's a holiday period.
Product images used on our website may be of a real car photo, model car photo, mock-up, render, illustration, prototype or production sample and are used for display purposes only.
Please be mindful that the vast majority of products available from us are produced in limited edition numbers and will only be available while stocks last which is why it is very important to pre-order at a stockist (or here online where possible - see above) or register your interest for future release models.