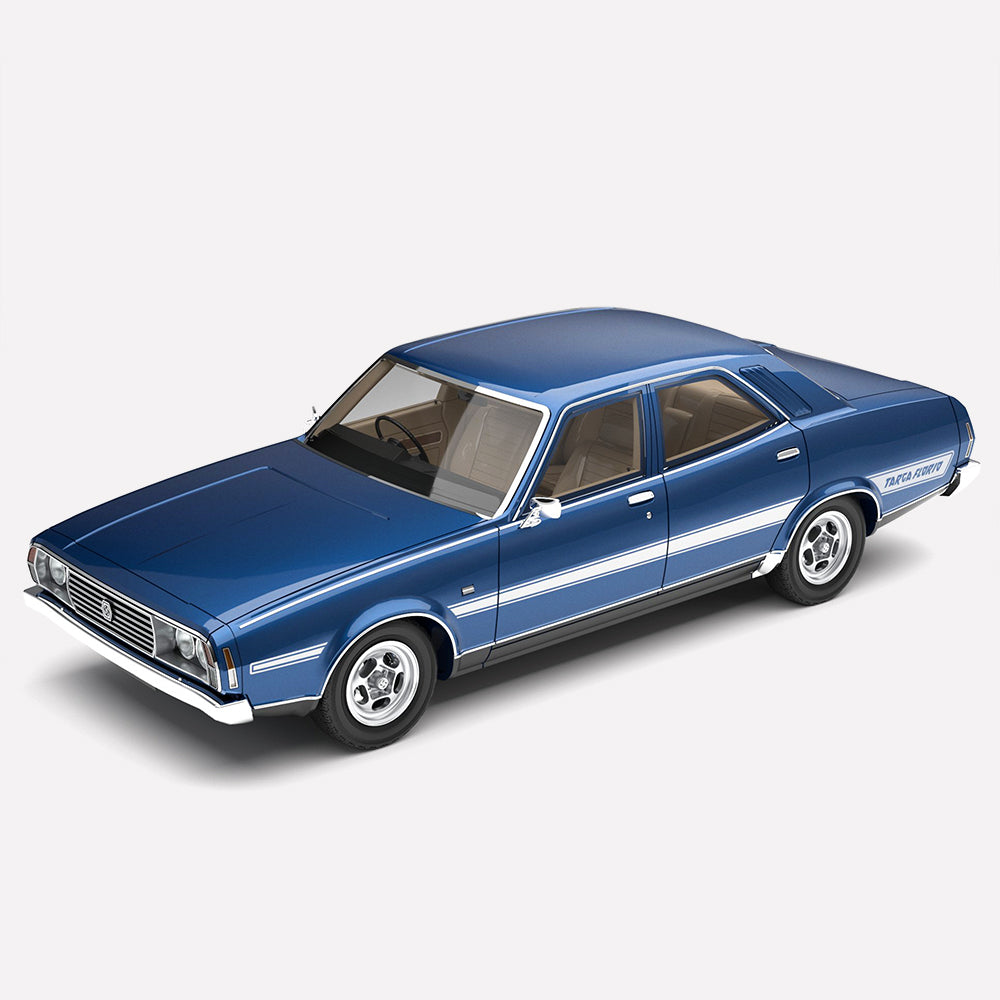 1:18 Leyland P76 Targa Florio - Omega Navy
Product Code: ACR18P76A
Regular price
$240.91 AUD ex GST
$265.00 AUD inc GST
/
---
Please Note: Concept Image Pictured

This model is a future release. Enquire about placing a pre-order at your local stockist or Register Your Interest for it by clicking on the black tab on the side of this screen and submitting your email to be the first notified when it arrives in stock to complete your order while stock lasts.

For more ordering info and other FAQs, please view the Ordering / Shipping info tab at the bottom of this page.

Product Code: ACR18P76A

Product Description: 1:18 Scale Leyland P76 Targa Florio - Omega Navy

Limited Edition Number: To be announced

Product Specifications: Sealed body resin with clear windows and detailed interior

About This Product:

Leyland P76 – Anything but average.
Born into a climate of economic, social and political upheaval, and coming from one of the smallest manufacturers in Australia, the P76 was set to be an underdog from the very beginning. The Australian arm of the British Motor Corporation, Leyland Australia, had seen the need to have a large family car in their stables, and thus the idea for the P76 was born. Aimed to compete directly with the Ford Falcon and Holden Kingswood, it was decided that it should have a similar wheelbase to the Falcon, have more interior space than a Valiant, and a bigger boot than the Kingswood, and be more reliable than all three. With a meagre development budget of just $21m AUD ($283m AUD in today's money) Leyland Australia set about developing the P76 with a heaping pile of features not found on any locally manufactured car at the time, and some that took nearly 10 years for the "Big Three" to incorporate.
The P76 was developed with a new 4.4 litre alloy V8 or 2.6 litre six cylinder engine connected to either a 3 speed manual column shift, a 4 speed manual floor shift, or a 3 speed automatic Borg Warner gearbox. It was fitted with MacPherson strut front suspension, 4 link coil spring live axle rear suspension, power disc brakes, and side intrusion bars as well, another first for the P76. The body shell was a monocoque unibody construction which gave the car a surprisingly low kerb weight of 1275kg, a good 230kg lighter than its counterparts. Its interior was roomy and well appointed and featured a cavernous boot, so large in fact that one of its claims to fame was the ability to house an entire 44 gallon drum and close the lid! The exterior styling set it aside from the softer Falcon and Kingswood, and was affectionately known as "The Wedge".
With all of these features it took out Wheels Magazine's coveted 'Car of the Year' award for 1973. Australians flocked to Leyland dealerships to buy the new wonder car but were met with an immediate shortage of cars, and long delivery delays. Flagging under the pressure to supply, Leyland rushed to deliver cars, and many had issues. Within months any problem – seemingly no matter how small - became national news and the view of the general public switched from wonder car to lemon. To make matters worse, British Leyland was crumbling and unable to support Leyland Australia, in fact there were rumours of British Leyland siphoning funds from Leyland Australia further worsening the situation. At the same time Australia was hit with a 'Credit Squeeze' and the pressure of the 1973 oil crisis pushed large family cars firmly out of fashion. By the mid 1970's the perfect storm of conditions had killed Leyland, and with it the P76.
Meanwhile, the P76 was proving to be a contender on the world rally circuit, winning the Targa Florio section of the 1974 World Rally, and placed 13th overall. Leyland celebrated this victory by releasing the "Targa Florio" version with mag wheels, a sports steering wheel, limited slip diff and graphics pack.
The short-lived production run of the P76 ended in November 1974 with 18007 cars produced. It's estimated that around 5000 cars still survive to this day in the hands of die-hard enthusiasts. Since its inception, the P76 has been a trend-setter, a polariser, a pariah, but undeniably a key part of Australia's motoring history.
Love it or hate it, it's earned it's place as one of Australia's most memorable cars.
Now, 50 years after the release of the P76 to the Australian public, Authentic Collectables are excited to announce to collectors the P76 Targa Florio in Omega Navy, scheduled to be produced in 1:18 scale sealed body with high detail. As with all our releases in 1:18, this model will produced in an exclusive limited edition and will include an individually numbered Certificate of Authenticity.

Please place your pre-order at your local stockist or register your interest for it online here to be notified exclusively when this model is released.
For Future Release Model Cars:
We have A LOT of future release model cars listed on this website and it's not uncommon for these items to take anywhere between 6-18 months to arrive.

If you're interested in ordering/buying these models then you have two options available to you:
Pre-Order Model Cars At Your Local Stockist:
If a model car is marked as a future release on our website then please enquire about placing a pre-order with your local model car / hobby stockist as soon as possible.
Please note, all stockists are seperate businesses to Authentic Collectables, we are suppliers to them. Each stockist has different ways of how they accept pre-orders for future release models.
To find your local Authentic Collectables stockist, please click here.
Register Your Interest For Model Cars Here On Our Website:
You can also register your interest for future model car releases online with us to be notified when they are released.
To do this you need to navigate to the product page of the specific model you're interested in.
Once you're on the model product page, please click on the black 'Register Your Interest' tab which should appear on the right hand side of your screen on each future release product page on our website, enter your email in the relevant section and submit the form.
When the model arrives in stock you will receive an advanced email notification from us letting you know that it is in stock with a link to complete and pay for your order while stock lasts.
Please ensure your email address is right before submitting the register your interest form. Unfortunately a confirmation email isn't sent when you register your interest for models on our website, the only time the system will email you about that specific model will be when it arrives in stock.
We offer this option due to the amount of time models generally take to produce (usually 6-18 months) so you're not out of pocket until the model actually arrives.
-
For Future Release Prints, Books + Other Products:
Depending on the type of product or brand, we also offer a paid pre-order option on our website.
If a product is available for paid pre-order on our website then you will be able to add it to your cart and purchase it like any normal in stock item.
Details about the pre-order will be listed at the top of the product description if it's available and when we expect it to arrive in our warehouse.
A paid pre-order option will only ever be available on our website for products that aren't models - we usually use this feature for prints, books and other non-model products.

We offer the paid pre-order option online with us for these products because we can predict production and shipping times more accurately and are usually much faster than the model cars to produce.

Of course, if you wish to order these items from your local stockist, please make an enquiry with them.
-
For All In Stock Products:
If a product is in stock then it should now be available at your local Authentic Collectables stockist or you can shop online directly with us and it will usually be shipped on the next business day unless otherwise stated or it's a holiday period.
Product images used on our website may be of a real car photo, model car photo, mock-up, render, illustration, prototype or production sample and are used for display purposes only.
Please be mindful that the vast majority of products available from us are produced in limited edition numbers and will only be available while stocks last which is why it is very important to pre-order at a stockist (or here online where possible - see above) or register your interest for future release models.