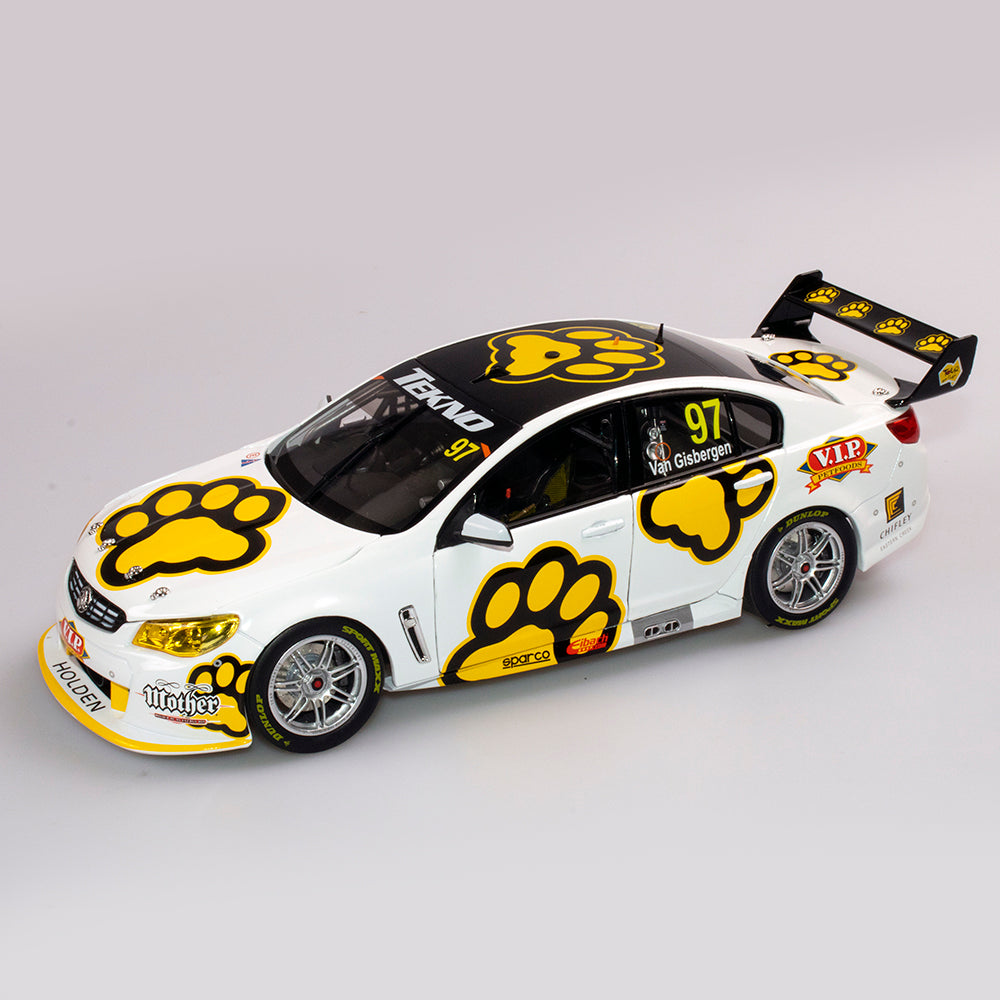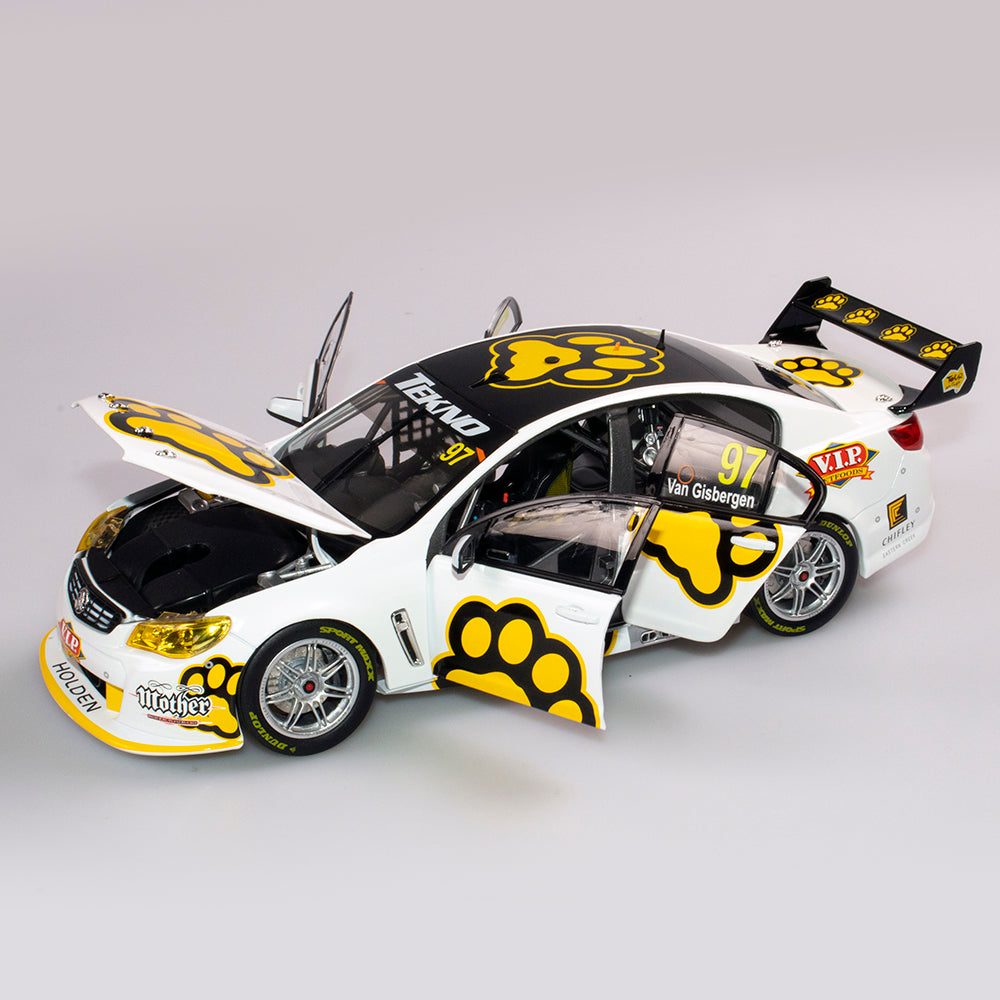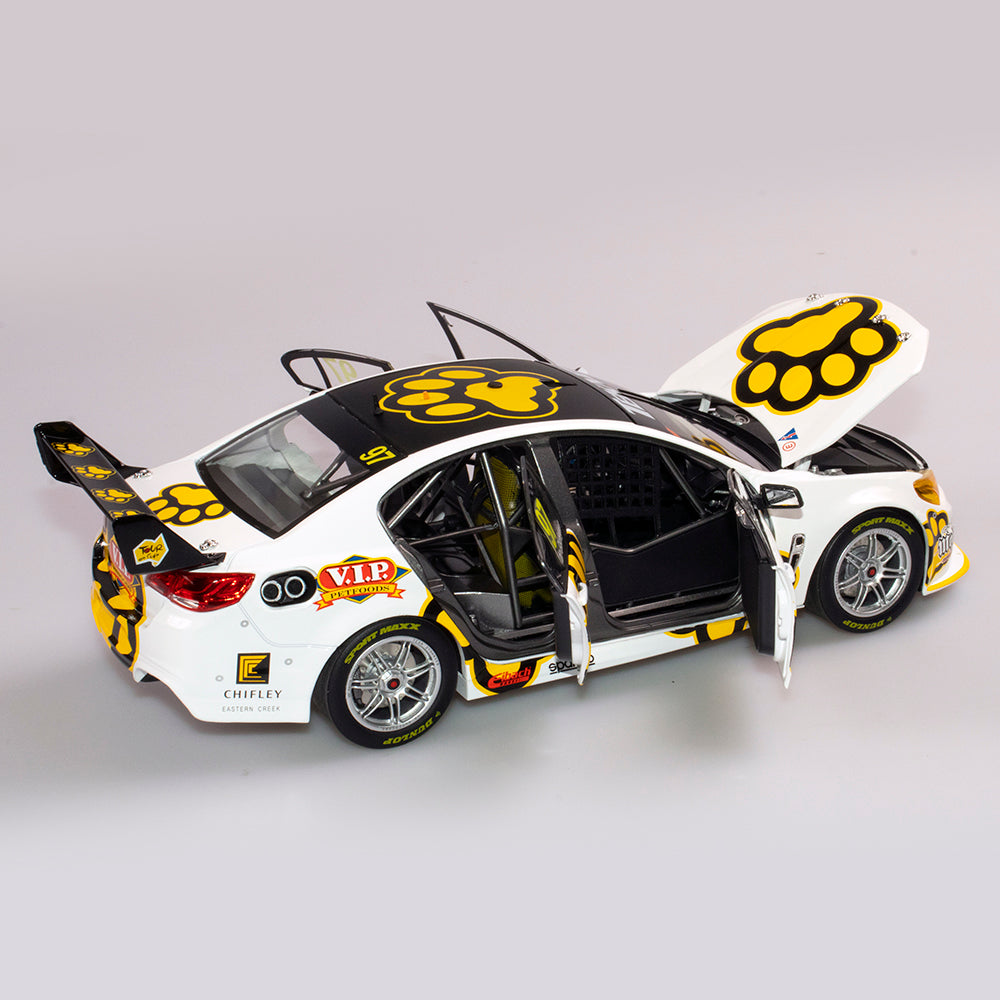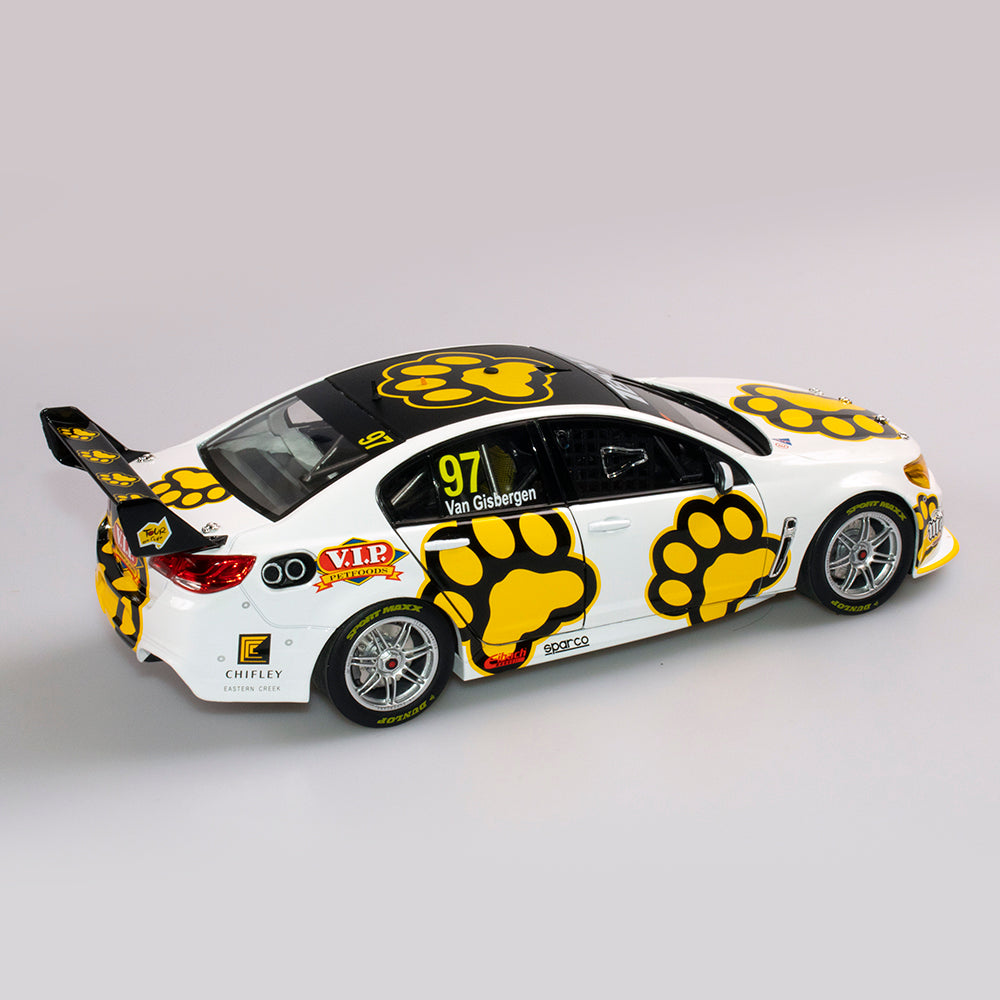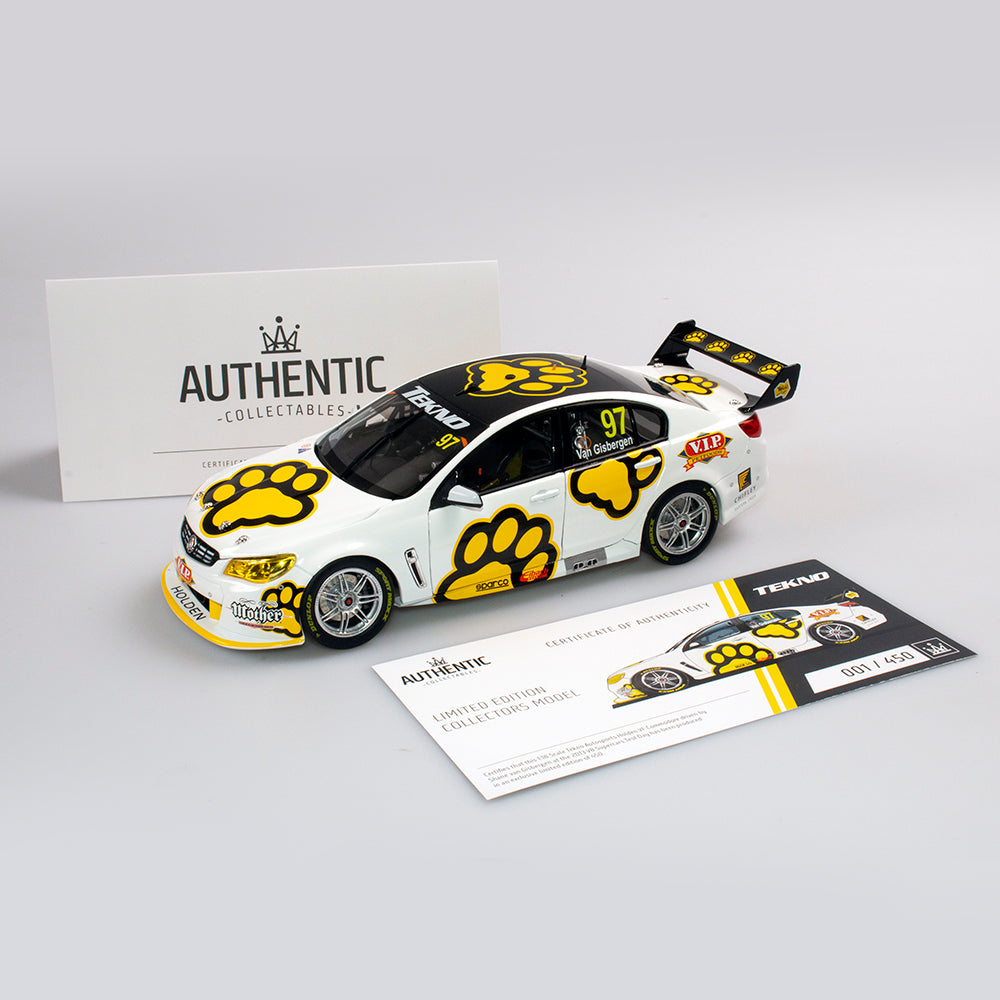 1:18 Tekno Autosports #97 Holden VF Commodore Supercar - 2013 V8 Supercars Sydney Test Livery
Product Code: ACD18H13B
Regular price
$227.27 AUD ex GST
$250.00 AUD inc GST
/
---
Product Code:
ACD18H13B
Product Description:
1:18 Scale Tekno Autosports #97 VIP Petfoods Holden VF Commodore Supercar - 2013 V8 Supercars Sydney Test Livery - Driver: Shane van Gisbergen
Limited Edition Number:
 450
Product Specifications:
Die-cast model car with detailed interior and opening parts.
About This Product:
Authentic Collectables are very proud to present this 1:18 Scale Tekno Autosports VIP Petfoods Holden VF Commodore driven by Shane van Gisbergen at the 2013 V8 Supercars Sydney Test day.
Tekno Autosports rolled up to the 2013 V8 Supercars Test day with a really unique white VIP Petfoods test livery featuring yellow and black paw prints across the car. The livery was on the car to be driven by new recruit Shane van Gisbergen who arrived at the team in somewhat controversial circumstances after 'retiring' from Supercars and previous team Stone Brothers Racing at the end of 2012 to eventually end up at the Queensland based Tekno for 2013.
The rare white based livery used at the test day as essentially a one-off would be updated to the season-proper black and yellow livery for the opening Clipsal 500 round (that van Gisbergen would win) and use for the rest of the year. It's a unique one-off livery that we think should be in collections for fans of this team and talented driver.
Don't miss this model in 1:18 scale which is has been produced by Authentic Collectables in high quality die-cast with detailed interior, opening bonnet and all four doors along with an individually numbered Certificate of Authenticity in a limited edition of only 450.

For Future Release Model Cars:
We have A LOT of future release model cars listed on this website and it's not uncommon for these items to take anywhere between 6-18 months to arrive.

If you're interested in ordering/buying these models then you have two options available to you:
Pre-Order Model Cars At Your Local Stockist:
If a model car is marked as a future release on our website then please enquire about placing a pre-order with your local model car / hobby stockist as soon as possible.
Please note, all stockists are seperate businesses to Authentic Collectables, we are suppliers to them. Each stockist has different ways of how they accept pre-orders for future release models.
To find your local Authentic Collectables stockist, please click here.
Register Your Interest For Model Cars Here On Our Website:
You can also register your interest for future model car releases online with us to be notified when they are released.
To do this you need to navigate to the product page of the specific model you're interested in.
Once you're on the model product page, please click on the black 'Register Your Interest' tab which should appear on the right hand side of your screen on each future release product page on our website, enter your email in the relevant section and submit the form.
When the model arrives in stock you will receive an advanced email notification from us letting you know that it is in stock with a link to complete and pay for your order while stock lasts.
Please ensure your email address is right before submitting the register your interest form. Unfortunately a confirmation email isn't sent when you register your interest for models on our website, the only time the system will email you about that specific model will be when it arrives in stock.
We offer this option due to the amount of time models generally take to produce (usually 6-18 months) so you're not out of pocket until the model actually arrives.
-
For Future Release Prints, Books + Other Products:
Depending on the type of product or brand, we also offer a paid pre-order option on our website.
If a product is available for paid pre-order on our website then you will be able to add it to your cart and purchase it like any normal in stock item.
Details about the pre-order will be listed at the top of the product description if it's available and when we expect it to arrive in our warehouse.
A paid pre-order option will only ever be available on our website for products that aren't models - we usually use this feature for prints, books and other non-model products.

We offer the paid pre-order option online with us for these products because we can predict production and shipping times more accurately and are usually much faster than the model cars to produce.

Of course, if you wish to order these items from your local stockist, please make an enquiry with them.
-
For All In Stock Products:
If a product is in stock then it should now be available at your local Authentic Collectables stockist or you can shop online directly with us and it will usually be shipped on the next business day unless otherwise stated or it's a holiday period.
Product images used on our website may be of a real car photo, model car photo, mock-up, render, illustration, prototype or production sample and are used for display purposes only.
Please be mindful that the vast majority of products available from us are produced in limited edition numbers and will only be available while stocks last which is why it is very important to pre-order at a stockist (or here online where possible - see above) or register your interest for future release models.